SEA BOSS
$30,500 - $32,500 / WEEK
---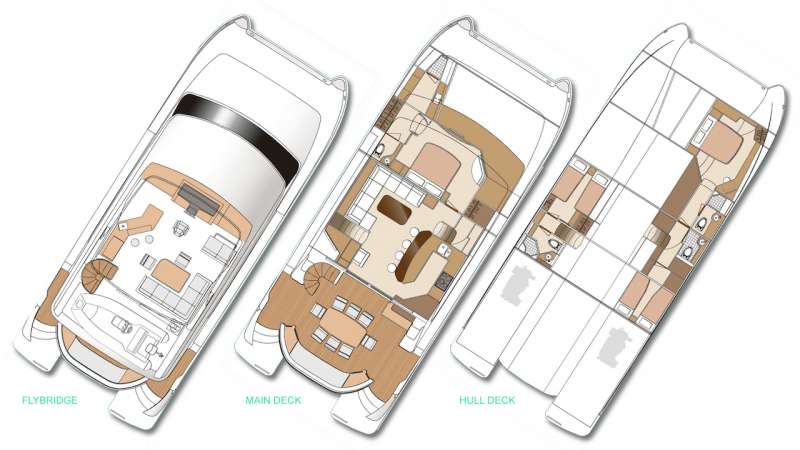 Boat Details
| | |
| --- | --- |
| Cabins: | 3 |
| Queen: | 1 |
| Single Cabins: | 1 |
| Showers: | 4 |
| Wash Basins: | 5 |
| Heads: | 4 |
| Electric Heads: | 4 |
Pick Up Locations
| | |
| --- | --- |
| Pref. Pick-up: | Nanny Cay BVI |
| Other Pick-up: | Yacht Haven |
---
Details
| | |
| --- | --- |
| Refit: | - |
| Helipad: | No |
| Jacuzzi: | No |
| A/C: | Full |
Engine Details
21.5kw & 9kw GENERATORS 4KW INVERTER WATERMAKER- 300 GALLON WATER TANK ICE MAKER Engines: 2 x Cummins QSM11 705hp Cruise Speed: 18kts Max Speed: 20kts Consumption at Cruising: 18 knots � 60 gallons/hour 15 knots � 50 gallons/hour 10 knots � 20 gallons/hour
Fuel Consumption:
60
Cruising Speed:
18
Max Speed:
20US Gall/Hr
Locations
| | |
| --- | --- |
| Winter Area: | Caribbean Virgin Islands |
| Summer Area: | Caribbean Virgin Islands, Bahamas |
---
Amenities
| | |
| --- | --- |
| Salon Tv/VCR: | Yes |
| Salon Stereo: | Yes |
| Sat Tv: | Wireless Printer/Scanner/Wi-Fi |
| # of Videos: | Array |
| # DVDs/Movies: | YES |
| # CD's: | Wireless |
| Camcorder: | Yes |
| Books: | Yes |
| Board Games: | Yes |
| Sun Awning: | Yes |
| Deck Shower: | Yes |
| Bimini: | Yes |
| Water Maker: | 1200 GAL |
| | |
| --- | --- |
| Special Diets: | Yes |
| Kosher: | Yes |
| BBQ: | Yes |
| # Dine In: | 8 |
| Minimum Age: | NONE |
| Generator: | Yes |
| Inverter: | Yes 2 |
| Voltages: | 110v |
| Water Maker: | 1200 GAL |
| Water Cap: | LOTS |
| Ice Maker: | Yes |
| Sailing Instructions: | NO |
| Internet Access: | Onboard WIFI |
| | |
| --- | --- |
| Gay Charters: | Yes |
| Nude: | Yes |
| Hairdryers: | Yes |
| # Port Hatches: | 6 |
| Guests Smokes: | AFT DECK Only |
| Crew Smokes: | No |
| Pets Aboard: | No |
| Pet Type: | NONE |
| Guest Pets: | No |
| Children Ok: | Yes |
| Hammock: | No |
| Windscoops: | No |
---
Water Sports
| | |
| --- | --- |
| Dinghy size: | 19ft |
| Dinghy hp: | 150 |
| Dinghy # pax: | 8 |
| Water Skis Adult: | Yes |
| Water Skis Kids: | 2 |
| Jet Skis: | No |
| Wave Runners: | No |
| Kneeboard: | Yes |
| Windsurfer: | No |
| Snorkel Gear: | Yes |
| Tube: | Yes |
| | |
| --- | --- |
| Scurfer: | No |
| Wake Board: | Yes |
| Kayaks 1 Pax: | No |
| Kayaks (2 Pax): | No |
| Floating Mats: | No |
| Swim Platform: | No |
| Boarding Ladder (Loc/Type): | Stern/easy |
| Sailing Dinghy: | NO |
| Beach Games: | Yes |
| Fishing Gear: | Yes |
| Gear Type: | Lots of Lures and Rods |
| Rods: | 4 |
Nathan and Laura are waiting to welcome you aboard SEA BOSS. They will take care of your every need, tailoring your vacation to your desires. They will listen to you carefully and with their professional mix of happy go lucky and high-end service you will not be disappointed. Their love for their job will be evident as soon as you meet them and you will be sure to want to continue to sail with them for years to come.

Nathan and Laura are highly experienced, award winning crew and have a great track record, completing over 130 luxury charters since 2011. Since meeting they dedicated their lives to the charter industry and placed much energy in becoming the best crew for their guests, even winning Crew of the Year in 2013 by Trade Winds Cruise Club. Their experiences in their previous careers and within the charter industry, revolving around customer service and care, has given them the flexibility to adapt to any given circumstances, requests and needs of their guests, individually and as a group.

Capt. Nathan Kurton
Nathan is a captain with many additional skills. Not only does he have an approachable, warm personality but he is also an extremely skilled boat handler. He will keep everybody feeling safe and happy the whole trip.

Nathan has an eye for detail and will keep the yacht spotless for your stay. In his previous career he was a skilled electrician, which enables him to maintain such a beautiful yet technical yacht like SEA BOSS.

Nathan grew up on the water, skiing and wakeboarding from an early age. Laura introduced him to the sport of dinghy sailing when they met in 2008 and with their love for the water, Nathan and Laura decided to embark on their yachting career together.

Chef/Mate Laura Kurton
Laura is a very talented chef and enjoys all aspects of cooking including catering for your dietary needs. Not only is she amazing in the galley but Laura always makes time to be with her guests to ensure that they are happy with everything. She has expanded her cooking repertoire over the years, gaining experience on a variety of specialized courses at the prestigious Ashburton School of Cookery in the UK and obtaining her Level 2 Food Hygiene qualification. She's very versatile and can make a great cocktail and help Nathan as 1st mate of Sea Boss.

Laura is very clean, professional and is always smiling and happy. She loves to sing and dance and you may catch her doing both of these whilst in her favorite place, the galley!

Also a qualified captain and having sailed since she was a child, Laura will ensure you have the greatest vacation you could ever dream of!

Nathan and Laura have been married since July 2010 and are the perfect team. They met in their home town in the South West of the UK where they both grew up and now in their 30's, their fun loving personalities and vast knowledge of the water guarantees to provide you with a unique and unforgettable experience. They take much pride in their work and know only too well how important their professionalism and flexibility can impact your charter to make it the best you have ever experienced. Most of all they understand perfectly how important vacation time is to their guests and focus on their enjoyment above anything else throughout their stay.
(15 December -30 April)
Caribbean Virgin Islands
(1 May - 14 December)
Caribbean Virgin Islands, Bahamas
| | | | | | | | | | | | | | | | | | | | | | | | | | | | | | | | |
| --- | --- | --- | --- | --- | --- | --- | --- | --- | --- | --- | --- | --- | --- | --- | --- | --- | --- | --- | --- | --- | --- | --- | --- | --- | --- | --- | --- | --- | --- | --- | --- |
| Oct 2020 | 1 | 2 | 3 | 4 | 5 | 6 | 7 | 8 | 9 | 10 | 11 | 12 | 13 | 14 | 15 | 16 | 17 | 18 | 19 | 20 | 21 | 22 | 23 | 24 | 25 | 26 | 27 | 28 | 29 | 30 | 31 |
| Nov 2020 | 1 | 2 | 3 | 4 | 5 | 6 | 7 | 8 | 9 | 10 | 11 | 12 | 13 | 14 | 15 | 16 | 17 | 18 | 19 | 20 | 21 | 22 | 23 | 24 | 25 | 26 | 27 | 28 | 29 | 30 | |
| Dec 2020 | 1 | 2 | 3 | 4 | 5 | 6 | 7 | 8 | 9 | 10 | 11 | 12 | 13 | 14 | 15 | 16 | 17 | 18 | 19 | 20 | 21 | 22 | 23 | 24 | 25 | 26 | 27 | 28 | 29 | 30 | 31 |
| Jan 2021 | 1 | 2 | 3 | 4 | 5 | 6 | 7 | 8 | 9 | 10 | 11 | 12 | 13 | 14 | 15 | 16 | 17 | 18 | 19 | 20 | 21 | 22 | 23 | 24 | 25 | 26 | 27 | 28 | 29 | 30 | 31 |
| Feb 2021 | 1 | 2 | 3 | 4 | 5 | 6 | 7 | 8 | 9 | 10 | 11 | 12 | 13 | 14 | 15 | 16 | 17 | 18 | 19 | 20 | 21 | 22 | 23 | 24 | 25 | 26 | 27 | 28 | | | |
| Mar 2021 | 1 | 2 | 3 | 4 | 5 | 6 | 7 | 8 | 9 | 10 | 11 | 12 | 13 | 14 | 15 | 16 | 17 | 18 | 19 | 20 | 21 | 22 | 23 | 24 | 25 | 26 | 27 | 28 | 29 | 30 | 31 |
| Apr 2021 | 1 | 2 | 3 | 4 | 5 | 6 | 7 | 8 | 9 | 10 | 11 | 12 | 13 | 14 | 15 | 16 | 17 | 18 | 19 | 20 | 21 | 22 | 23 | 24 | 25 | 26 | 27 | 28 | 29 | 30 | |
| May 2021 | 1 | 2 | 3 | 4 | 5 | 6 | 7 | 8 | 9 | 10 | 11 | 12 | 13 | 14 | 15 | 16 | 17 | 18 | 19 | 20 | 21 | 22 | 23 | 24 | 25 | 26 | 27 | 28 | 29 | 30 | 31 |
| Jun 2021 | 1 | 2 | 3 | 4 | 5 | 6 | 7 | 8 | 9 | 10 | 11 | 12 | 13 | 14 | 15 | 16 | 17 | 18 | 19 | 20 | 21 | 22 | 23 | 24 | 25 | 26 | 27 | 28 | 29 | 30 | |
| Jul 2021 | 1 | 2 | 3 | 4 | 5 | 6 | 7 | 8 | 9 | 10 | 11 | 12 | 13 | 14 | 15 | 16 | 17 | 18 | 19 | 20 | 21 | 22 | 23 | 24 | 25 | 26 | 27 | 28 | 29 | 30 | 31 |
| Aug 2021 | 1 | 2 | 3 | 4 | 5 | 6 | 7 | 8 | 9 | 10 | 11 | 12 | 13 | 14 | 15 | 16 | 17 | 18 | 19 | 20 | 21 | 22 | 23 | 24 | 25 | 26 | 27 | 28 | 29 | 30 | 31 |
| Sep 2021 | 1 | 2 | 3 | 4 | 5 | 6 | 7 | 8 | 9 | 10 | 11 | 12 | 13 | 14 | 15 | 16 | 17 | 18 | 19 | 20 | 21 | 22 | 23 | 24 | 25 | 26 | 27 | 28 | 29 | 30 | |
---